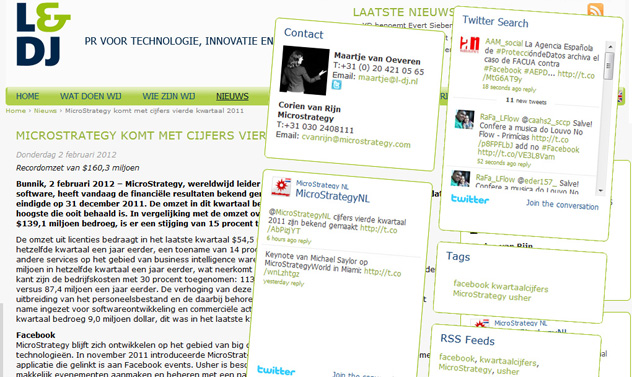 Om persberichten meer impact te geven en beter te laten aansluiten op de behoeften van deze tijd heeft Fullmoon voor communicatiebureau Lubbers & de Jong een Social Media Press release ontwikkeld. De ontvangers van het persbericht, met name journalisten, bloggers, twitteraars, worden op maat bediend door het persbericht te koppelen aan sociale media uitingen. De Social Media Press release bestaat uit een pagina waarop een persbericht wordt omgeven door relevante informatie:
contactpersoon met LinkedIn contactgegevens;
twitter-boxen, die worden gebruikt om bij de persberichten te laten zien wat er over het bedrijf en/of het onderwerp van het persbericht op twitter gezegd wordt;
tags, waarmee persberichten van een bepaalde klant of binnen een bepaalde categorie met een klik direct beschikbaar zijn;
RSS-feeds;
aanvullend beeldmateriaal of documenten, die kunnen worden gedownload;
video- en/of audiofragmenten;
eerdere persberichten van dezelfde klant.

Uiteraard is er een share-mogelijkheid voor de persberichten, buttons waardoor het bericht online verspreid kan worden naar de netwerken van de lezers: LinkedIn, Twitter, Facebook en Hyves. De buttons hiervoor komen naast het persbericht te staan.

De worden via de nieuwsbriefengine van Xsite verstuurd. En in de toekomst kan de Social Media Press release worden uitgebouwd naar een Press room: een in de eigen stijl van de klant vormgegeven eigen pressrelease site.